The families and friends in Western Ukraine need Ukraine Aid. Ukraine War continues and affects the living conditions for many families.
My name is Vitaly Kirkpatrick, and I grew up without a loving and caring family in a Ukrainian orphanage. But recent events in Ukraine left me with no choice but to ask for help, not for myself, but families and friends in Ukraine.
Early on the morning of February 24, Russia launched a massive invasion of Ukraine. Almost the whole world supports Ukraine and provides the Ukrainian people with all possible assistance. But many people who abroad do not know how they can help Ukraine. With your support through the GoGetFunding fundraiser campaign and the help from the locals in Chernivtsi, Ukraine, we can provide much-needed assistance to families and friends affected by the war in Ukraine.
Why is this campaign so close to my heart?
I grew up in an orphanage in Chernivtsi, Ukraine. The war added a burden on the lives of the citizens of Ukraine. By coincidence, just last month, I released my book Vitaly. I wanted to tell the story about the life of ordinary people in Ukraine. Watch a short story below to see the poverty and conditions I lived in, and many Ukrainians continue to live.
I know the challenges that families face there. I once was the one who needed help the most, especially during my teen and adulthood years in Ukraine and after I left the orphanage and the foster care. I know families with children there who suffer from diseases and the complex current situation in the country, which, unfortunately, is getting worse every day.

Support Ukraine | Stand With Ukraine
Help Families and Friends in Western Ukraine Affected by War
Due to constant explosions and shelling in many regions of our country, pharmacies, retail establishments with the most necessary goods, and other essential infrastructure facilities completely disappear and stop their work.
The only way to help them is to buy everything they need (food, water, medicines, the baby formula for feeding children, personal hygiene products, etc.).
How can you help?
I am working with locals to help deliver the necessities and funds to the hands of the families that need them most. With every book purchase, I will donate 100% of the profits to help those in need in my little town Chernivtsi, Ukraine.
Here are two ways you can help people in Ukraine:
If you buy my book, I will donate 100% of the profits to help those in need in my little town Chernivtsi, Ukraine. The goal is to help as many families as we can in West Ukraine, and if the donations exceed, we will send them to other non-profit organizations.
or a $50 or more donation, I will send a signed copy of my book, and if interested, I will have a personal conversation about life in Ukraine and the orphanage.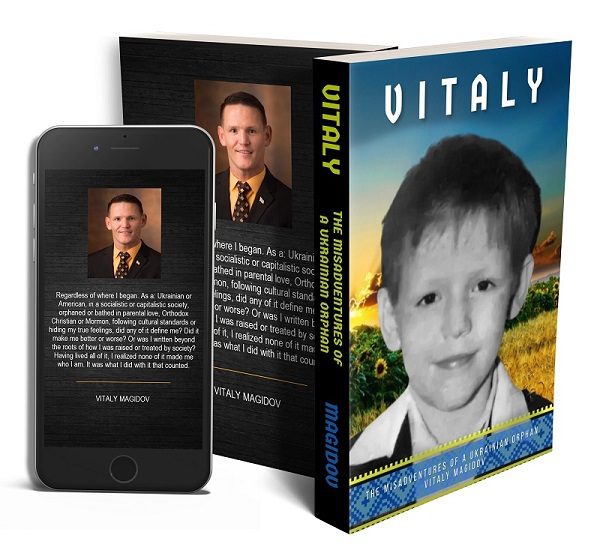 An
autobiography
book about a
Ukrainian orphan
's desire to find a family and an honest definition of himself while growing up in Communist and then post-Communist Independent Ukraine.
Order before February 28, 2022, and get the author's signed copy of VITALY book. Use coupon to get your free shipping discount
Stories from the Families in Chernivtsi, Ukraine
Many families in Western Ukraine need your help. I asked a few to share their stories with you.
Slavik and Luda Family:
Slavik grew up with me in an orphanage. He didn't have the parents and support needed to survive. Here is Slavik's story and how the war affects his family and the people he knows.
Hello from Chernivtsi, Ukraine. When we first heard the explosions, my wife and daughter were terrified. Because of the war, my family experienced depression. We didn't know what to do because we never had to worry about this situation.
My family lives in a multi-story old panel building built during USSR times. The structure is weak, and at every explosion, parts of the walls peel off to the ground. I don't know how long our apartment will stand those trembling explosions. We don't want to end up on the streets like some of our friends in Kyiv did.
We don't have any means to buy food because my wife lost my job, and I am unable on the wages I get to support the entire family. When air sirens sound, we run quickly into a very cold shelter located in a basement.My mother-in-law is 80, and she can't walk, so she hides in a bathtub in our apartment. We sleep at night in cold basement shelters. It is hard to sleep when it is out, and sirens continuously go off, sometimes 3-4 times a day.
We made an important decision to send our little daughter Vikusya across the border to my wife-s sister in Portugal. There are large queues of 8-10 km at the border. Men of age 18-60 are not allowed to leave the country. So, we had to say goodbyes to our only daughter before she left Chernivtsi. A lot of men at the border cry. There is no gas available, so whoever can help with gas bring it in the container to fill up the cars so that they can make it across the border.
Vikusya had to sleep and stay in our relative's car for three days and nights before finally making it to Portugal. She was brave and didn't cry. She loves theater and art, but all her dreams for the future were taken away from her. She can't go to school anymore until she finds a new school and learns the language there.
Our relative doesn't have money to support her, so we were able to give her all our savings of $400 we've saved over the years, so she can start living life there. It is not much, but it is all we could help her. Any help from you or friends could help our daughter stand on her feet and start going to school one day in Portugal.
I never served in the military. So, I don't have a gun and don't know how to use it. But I'll fight and do what I can and help the army. I can make a Molotov cocktail. I'll throw it at the enemy.
Many refugees are migrating to Chernivtsi. We try to help them as much as we can. Somebody weaves a male mesh in school; someone makes food for others; someone defends the border in the territorial defense of our city.
We worry about our daughter and miss her very much. We are so happy she is in a safe place, but we don't know when we will see her. Now, we have to take care of our mother-in-law.
We need your help. If you can't help financially, we ask you to please help us by praying for us and Chernivtsi and Ukraine.
Masha Family:

Masha grew up with me in an orphanage. She didn't meet her parents and didn't know any relatives. Here is Masha's story.
We live in a small room in a dormitory. We share a bathroom, kitchen, and hall. The area of the room is 9.45 square meters.
I worked as a maid and cleaned bathrooms and halls in the kindergarten until the war started on February 24, 2022. I lost income. I am a single mom, and I live off the supplies I stored for winter.
I have a little daughter, Tanya, who in the winter was able to save $50 when she sang carols from house to house, so we use it to buy what we can sparingly to help us survive through this war.
I wanted to save this money to take Tanya to the park in the summer, treat her with ice cream, buy some soda and treats. But now Tanya says, "Mommy, take my money and buy us food." I cried and replied, "No, Tanya, you keep them. Maybe this war will all end soon." But now the war keeps going on the 12th day, and we don't have any choice but use her money. My neighbors share food with my daughter and me to help us survive through these times.
Today is March 7, and tomorrow we will have March 8, which is International Women's Day. Today we watched on TV the greetings for our women. But we can't celebrate this day in peace. There is nothing to celebrate during this time. Our women dress up in military uniforms and go to war to help soldiers fight the enemy.
Tanya cries at night when air sirens go off. She can't sleep. She is only nine years old and now witnessing the war. Russian invaders bomb houses of civilians destroy our churches and children's playgrounds, even if there is no Ukrainian military.

I love my daughter, Tanya, and will do anything for her to keep her safe and fed. Any help, food, clothes, medication are genuinely appreciated.
Morozov Family
I met Ivan back in 2016 when I had a startup CloviTek. Ivan is an Electrical Engineer and was a great help to get the gadget designed and make it work. Unfortunately, the startup didn't survive due to COVID, and I lost everything I had, including the innovative hearing solution I built with Ivan and his team at ARTKB. He is currently without a job and helping others in need.
Ivan is in Kyiv, helping people who need his help the most. He provides transportation for people who don't have the means to travel regardless of the high prices on gas that affect his ability to pay. Ivan buys medicine and food to deliver to people who evacuated and are hiding in shelters. Although his family is safe, his sister, Mary, suffered significant losses. Their apartment building was destroyed. She and her family escaped to the West of Ukraine and are safe there. But now, she doesn't have a place to live. She spent her entire life to get the place where she lived in Kyiv.
Here is Ivan's sister's, Mary, story:
We bought our own apartment in 2012. The house was completed in more than 2 years. Our family moved into an apartment in 2015. We moved in on the 22nd floor with a beautiful view on three sides of the building.
On the morning of February 24, 2022, there were sounds of sirens and explosions around Kyiv. The sounds of air sirens lasted through the whole day. Everyone had a feeling about something was coming, but nobody believed that disaster was near. We spent the night of February 25, in our own apartment. Adults hardly slept that night. We read the news and listened to the radio. Our sons, Yura and Mykola, slept next to us in the children's room.
After we heard the news, we decided to go down in the evening and spend the night on February 26, in a bomb shelter near the house. We took with us the most necessary things and documents. When we woke up around 8 am we did not hear the siren but we all felt a very loud explosion. Everyone was shaking and we run quickly into the bomb shelter.
After reading online news, we learned that our house was affected. From photos and videos on the Internet, we saw that the floor of our apartment was at the epicenter of the explosion. The Ministry of Emergencies and the police forbade the residents to enter the house.
On Monday, February 28, when the Ministry of Emergencies began to strengthen the floors from further collapse, we walked for half an hour through the building into the apartment. We saw a lot of destruction there. Our boys' room where they slept two nights before was completely destroyed. We all were in shock.
This was our last visit to the apartment.
We are now in western Ukraine. Our family has many children, we are raising a 20-year-old daughter, and two sons ages 8 and 12.
We don't know how long the war will last, but we hope and pray that it will end soon. Our children need to eat. And, without a job, we are unable to support them for too long. We pray for support and the end of this war.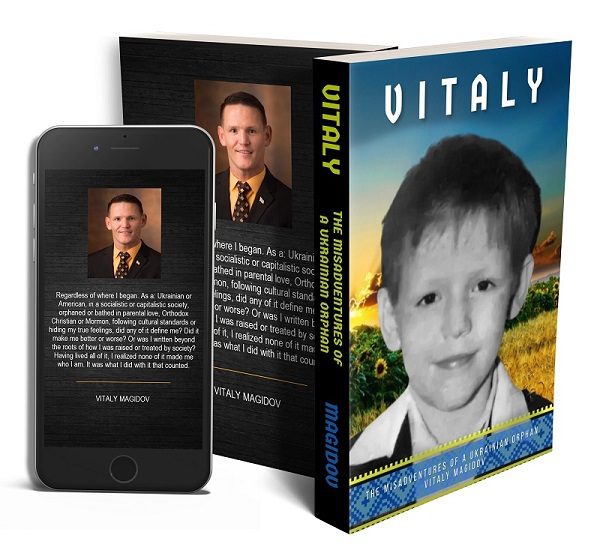 An autobiography book about a Ukrainian orphan's desire to find a family and an honest definition of himself while growing up in Communist and then post-Communist Independent Ukraine.
Order before February 28, 2022, and get the author's signed copy of VITALY book. Use coupon to get your free shipping discount
How to help Ukraine from the USA
Below is a list of charitable organizations that directly help Ukraine and Ukrainians. Most of them are registered in the USA.​ If we raise more money than is needed by our friends and families in Ukraine, any excess will be donated to the selected organizations below.​