Description
Draw inspiration from the authentic, motivational, and award-winning story of a Ukrainian orphan who persisted and realized his dreams. His story proves that with dedication and an unwavering belief in yourself, no matter how difficult life may seem, you can tru
ly achieve anything.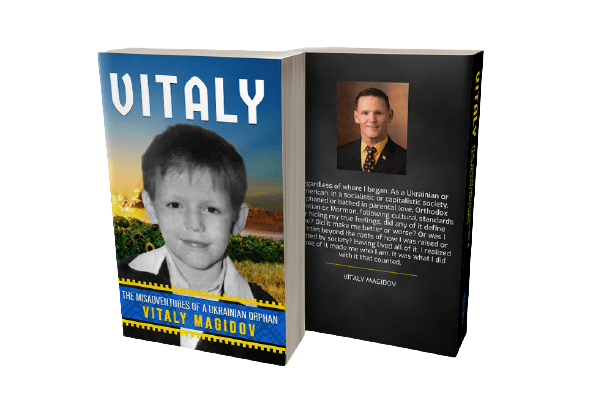 One of life's greatest gifts is discovering who we are and following our true selves. Unfortunately, reaching our full potential cannot be accessible due to certain challenging situations. We then have to choose: either allow our fate to define us or persist and struggle until we reach our goals. Vitaly Magidov chose the latter, and his inspiring life story speaks of the battles, successes, and challenges he had to overcome to become the successful person he is today.
His mother abandoned Vitaly shortly after his birth, and consequently grew up in an orphanage in Ukraine until he was twelve. He then went into foster care for another six years until he reached the age of eighteen. Even from a young age, Vitaly sensed that he was different, yet he lacked the knowledge and guidance to find his true identity, especially during the difficult times of the USSR.
Life was miserable.
Vitaly had no plans for the future and was living in solitude, trying to savor life but constantly battling self-doubt, taking it one day at a time. Despite his attempts to meet society's expectations, he never could.
He could not escape the conviction that something was off with him. From when he was young, he was taught about life's natural progression – have fun as a child, be well-behaved, tell the truth, be respectful to your parents, go to school, complete your studies, get a job, start a family, retire, and enjoy your life in your later years.
He could not find anyone living up to societal expectations. As a result, Vitaly had to find his way through various challenges and hardships. Eventually, he chose to challenge the status quo.
This motivating work draws attention to his early setbacks and problems and his successes and achievements.
Are you interested in discovering a remarkable and motivating real-life autobiography?
If so, keep reading on and dive into this beautiful tale.
Specifically, in Vitaly's book, the most captivating life memoir, you will discover:
Vitaly's book is an inspiring memoir to read,

 narrated in first person by Vitaly
It recounts his life story 

chronologically

, from his early years to maturity, 

in his own words

.
Reveals the 

similarities between Ukrainian culture and diverse religion

s

Vivid tone and thrilling stories that will hold your attention

 throughout

Moving and uplifting, with essential life lessons
If you're searching for a meaningful memoir, are feeling lost about who you are and need encouragement for acceptance, or simply looking for a great read, check out Vitaly — the ultimate autobiography. Let this story remind you that it is not the life you are born into that matters but what you do with it.
Check it out now by scrolling up and clicking "Buy Now"!
Not ready to buy? Start reading Chapter One now.